Deloitte in the Cayman Islands. A Career in Paradise. Brochure 2017.
→
Si su navegador no soporta JavaScript, por favor, lea el contenido de la página a continuación:
Deloitte in the Cayman Islands. A Career in Paradise. Brochure 2017.
→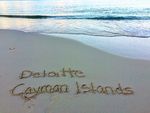 Deloitte in the Cayman Islands | A career in paradise 02 Why Deloitte? If you value quality of life and you are ready to have a rewarding, challenging career then consider Deloitte in the Cayman Islands! Here, you can work in a dynamic environment that fosters professional development, career advancement and focuses on making an impact that matters all while enjoying the unique island life of Grand Cayman. Learn more about current opportunities by visiting https://jobs2.deloitte.com/ky/en
About the Cayman Islands Our history & geography A British Overseas Territory founded by Christopher Columbus in 1503, located in the Western Caribbean 460 miles south of Miami, Florida and 167 miles west of Jamaica. 3 islands: Grand Cayman, Cayman Brac and Little Cayman with a total area of 100 square miles; Grand Cayman is the largest at approximately 22 miles long and 8 miles wide at the maximum width. Our culture Caymankind is about the entire experience of Caymanian culture: the islands' people, history, resources and traditions.
For locals, Caymankind is a way of presenting themselves at all times as courteous, compassionate and caring. Our economy A tax neutral jurisdiction and one of the largest financial centers in the world. High political and economic stability, well developed and maintained infrastructure with an internationally experienced work force. Our climate A tropical climate year round with temperatures ranging from 70 degrees Fahrenheit in winter to 90 degrees Fahrenheit in the summer, rising to a maximum in July. Hurricane season lasts from June 1st to November 30th with maximum rainfall typically in September and October.
Our people Population is estimated at approximately 58,000 residents. Over 135 different nationalities are represented in Cayman and the official language on all three islands in English. Language As an overseas territory of the United Kingdom, the official language is English. United Kingdom English spelling is used on the island. Leisure, culture and restaurants Please refer to the following websites: www. caymanislands.ky—provides a complete list of things to do, from festivals to attractions. www.caymanrestaurants.com—complete list of restaurants, including location.
Cost of living, relocation, island life We highly recommend you conduct your own research on expected cost of living and relocation matters using the Cayman New Resident website. You are also encouraged to reach out to your Ambassador for guidance and information on what to expect when living on the island! www.caymanislands.ky—ultimate guide to living & working in the Cayman Islands Deloitte in the Cayman Islands | A career in paradise 03
Deloitte in the Cayman Islands | A career in paradise 04 The Cayman Islands is a premier scuba diving destination and many of our staff obtain their PADI diving license and enjoy diving on the weekend. Travel, explore, discover • Given our proximity to North and Central America, there are many opportunities to explore the continents. There are frequent direct flights to Jamaica, Cuba, Canada, the USA and the UK. Island living and weather • The Cayman Islands boasts some the world's most beautiful beaches – pink sand and crystal clear blue water as seen on the world famous Seven Mile Beach on Grand Cayman.
• Water activities and sports are the best way to experience and enjoy the islands whether you are sailing, kayaking, snorkeling or fishing. Financial services • The Cayman Islands hold an exceptional reputation within the industry, ranking as one of the largest financial centers in the world. • It's a world-class center for investment funds, private equity funds and asset finance and for incorporations of global companies. • The country boasts one of the highest GDPs per capita in the world.
Deloitte in the Cayman Islands | A career in paradise 05 Deloitte in the Cayman Islands Caribbean and Bermuda Countries The Cayman Islands firm is part of the Caribbean and Bermuda Countries (CBC) member firm, which includes 7 offices across the region: Bahamas, Barbados, Bermuda, British and United States Virgin Islands, Cayman Islands and Trinidad & Tobago. Client services The firm is dedicated to providing Audit, Consulting, Financial Advisory, Risk Advisory and Tax services to clients across multiple industires in the public and private sectors with a focus on financial services. Deloitte in the Cayman Islands opened its doors in 1973 as a branch of the Bermuda based accounting firm Rawlinson Hunter Butterfield & Co. Our Firm 152 Professionals 59% Between the ages of 22–35 55% International staff >15 Different nationalities Client Service Audit & Assurance Tax Services Financial Advisory Risk Advisory Consulting
Deloitte in the Cayman Islands | A career in paradise 06 Life at Deloitte The Deloitte reputation for being a great place to work precedes us. Deloitte Partners (left to right): Mike Penner, Mark Rutkowski, Francois Lamontagne, Serge Berube, Cindy Hislop, Carrie Brown, Dale Babiuk, Odette Samson, Tony Fantasia, Stu Sybersma, Norm McGregor, Taron Jackman Our open door and first name policies contribute to an atmosphere that is friendly yet professional, where people feel comfortable asking questions. We are proud of the positive feedback from both clients and employees about our unique work environment.
Why we're number one for clients At Deloitte, the leading big four professional services firm, we don't believe that one size fits all when it comes to serving our clients—with extensive business and industry knowledge, our client service teams create powerful business solutions for global organizations, that help them excel anywhere in the world. These solutions are designed for each clients' industry, marketplace and unique situation.
Deloitte in the Cayman Islands | A career in paradise 07 Top career destination Deloitte in the Cayman Islands provides the talent experience and rewards that you would expect from the undisputed leader in professional services. At Deloitte in the Cayman Islands you can have the experience of working for a global professional services firm and serving large financial service clients - all while enjoying the work-life balance island living allows for. Our culture is built on the collaboration, flexibility and innovation needed to perform at the highest levels and exceed expectations. We value your perspective and ability to create value inside the organization and out.
Deloitte leads with purpose, values, and innovation, to solve complex issues for our clients and communities and make an impact that matters in all that we say and do. As a team member of Deloitte, you can expect challenging, meaningful assignments that reinforce our sense of purpose. Careers Our people are the key to our success. We pride ourselves in making an investment in our high-quality learning and development programs, as they are essential for both your future success and ours. We have redefined the way we evaluate performance with a focus on strengths, coaching, regular feedback and ensuring you have the knowledge and skills you need to advance quickly toward your professional goals. People Our people make the difference. We strive to provide a culture in which our people can thrive and grow professionally and personally. Our culture is about diversity and inclusion, collaboration, high performance, and opportunity. We place strong value on open and free- flowing communication, a culture of mutual support, and actively encourage ideas among all of our employees. Our people – each one unique - and our culture make Deloitte a great place to work.
Well-being We believe that investing in our people and encouraging them to achieve a healthy work-life balance are the keys to productivity and success. Our holistic approach to well-being gives our people the support and flexibility to make daily choices that help them deliver an impact that matters on a sustainable basis. We encourage a culture of well-being based on flexibility, choice and support by engaging the Mind, energizing the body and providing a sense of Purpose. Community We are committed to driving societal change and working in innovative ways to design and deliver solutions that contribute to a sustainable, prosperous future for our community.
Our people regularly contribute volunteer and pro bono time, as well as donate time towards local education and skills-building initiatives. We know making an impact that matters strengthens our community and our businesses and most importantly, it's the right thing to do.
Deloitte in the Cayman Islands | A career in paradise 08 What is your Deloitte story? Career opportunities in the Cayman Islands abound for ambitious, talented professionals. Kate Antontitis Manager, Audit & Assurance Besides the lifestyle and living on a beautiful island, Deloitte in the Cayman Islands has provided me with the opportunity to further specialize in the investment management industry. By serving global audit clients with locally registered funds, I have refined my industry knowledge through exposure to a vast array of investment managers, strategies and structures. I have developed relationships with other local industry professionals, including attorneys, directors and administrators, who represent the investment management industry in the global marketplace.
Alexandra Simonova Senior Manager, Risk Advisory I wanted to join the Deloitte Cayman Islands practice in order to apply my technical and management skills to help others. Working at Deloitte helped me to get the experience of working in a smaller community and develop new perspectives in work and life. I am happy to have friends among my colleagues and be exposed to the multinational team with many interesting people that I can learn from. Marcin Czarnocki, Senior Manager, Financial Advisory Interacting with people from all over the world on a daily basis both inside and out of the office really opens one's eyes to different customs, cultures and traditions. It becomes a learning experience, one which no book could ever teach you. Experiencing the diversity truly has been one of the most prominent highlights of my Cayman experience to date.
Sarah Walker Senior, Tax Services When I wanted a change of pace for both personal and professional reasons, I knew having international experience would be great for my future career, and when I saw the available opportunity in the Cayman Islands, I knew it would fit with my personal goals as well. I work with a great team of people who are always there to answer my numerous questions and the professional growth opportunities I have at Deloitte are unparalleled.
Deloitte refers to one or more of Deloitte Touche Tohmatsu Limited, a UK private company limited by guarantee ("DTTL"), its network of member firms, and their related entities. DTTL and each of its member firms are legally separate and independent entities. DTTL (also referred to as "Deloitte Global") does not provide services to clients. Please see www.deloitte.com/about for a more detailed description of DTTL and its member firms. Deloitte & Touche is an affiliate of DCB Holding Ltd., a member firm of Deloitte Touche Tohmatsu Limited. Deloitte provides audit, consulting, financial advisory, risk advisory, tax and related services to public and private clients spanning multiple industries. Deloitte serves four out of five Fortune Global 500® companies through a globally connected network of member firms in more than 150 countries and territories bringing world-class capabilities, insights, and high-quality service to address clients' most complex business challenges. To learn more about how Deloitte's approximately 245,000 professionals make an impact that matters, please connect with us on Facebook, LinkedIn, or Twitter.
Deloitte has a strong presence in the Caribbean and Bermuda marketplace, with more than 500 professionals dedicated to bringing their talents to bear on our clients' unique issues. Deloitte Caribbean and Bermuda serves the English-speaking Caribbean from offices in the Bahamas, Barbados, Bermuda, British and United States Virgin Islands, Cayman Islands, and Trinidad & Tobago. Our professionals have a single focus: to help clients navigate their business challenges and achieve success. Deloitte in the Cayman Islands assists companies large or small, public or private. With over 150 professionals, our integrated approach combines keen insights with industry knowledge to help our clients excel. We are dedicated to strengthening corporate responsibility, building public trust, and making a positive impact in our communities.
This communication contains general information only, and none of Deloitte Touche Tohmatsu Limited, its member firms, or their related entities (collectively, the "Deloitte Network") is, by means of this communication, rendering professional advice or services. Before making any decision or taking any action that may affect your finances or your business, you should consult a qualified professional adviser. No entity in the Deloitte Network shall be responsible for any loss whatsoever sustained by any person who relies on this communication. © 2017 DCB Holding Ltd. and its affiliates